Oil Field and Gas Debt Collections Services
Oil Field Services Debt Collections, Drillers, Oil & Gas Supplier Collections, Personnel Invoice Collections
Oil Services Debt Collections Company: We are a full-service debt collection agency located in Houston Texas – Texas is the heart of the energy production and distribution center for the USA.  Our headquarters is located in Houston.  Our firm is among the very few oil & gas collections agencies that can boast that we have gone through the same ups and downs of the oil and gas price fluctuations.  We have seen the boom, bust, and boom again in the oil & gas industry.
We focus on the oilfield services sector because, after decades of collections experience, we have found that many customers will extend credit to vendors and oilfield service clients, only to find neither the client nor the vendor has paid the invoice.
We specialize in debt collections for oilfield service sectors, gas operations, and utility collections.   Our debt collection agency is a contingency based service. If we don't collect your debt that is owed to you then, we, as the oilfield debt collection agency, don't get paid.   You have no risk of using our collection services to collect your oil field service debt and that makes us uniquely different.  We do not alienate your end client or vendor.   This comes from years of experience collecting on debt and the knowledge of how to engage and following both State and Federal Collections Laws.
Additionally, we know that the fees collection companies charge can be a concern for the oilfield services, equipment manufacturer, and gas service companies.  We recommend you to contact us with your specifics.  Allow us an opportunity to assess your situation and get your debt collected. We have no hidden fees for our collection services and in some cases, you can pass on debt collection fees to the debtor.
We are Houston based debt collection agency. We work with multinational oil and gas companies, therefore, we have the knowledge, ability, and people to collect your debt.  Read more… About oil & gas debt collections
We have competitive fees. Ask our professional team of oil and gas collections specialists how fast we can liquidate your debt and if you are ready to engage us, call or email our office. We will immediately get an oil and gas services specialist working on recovering your oil and gas invoices.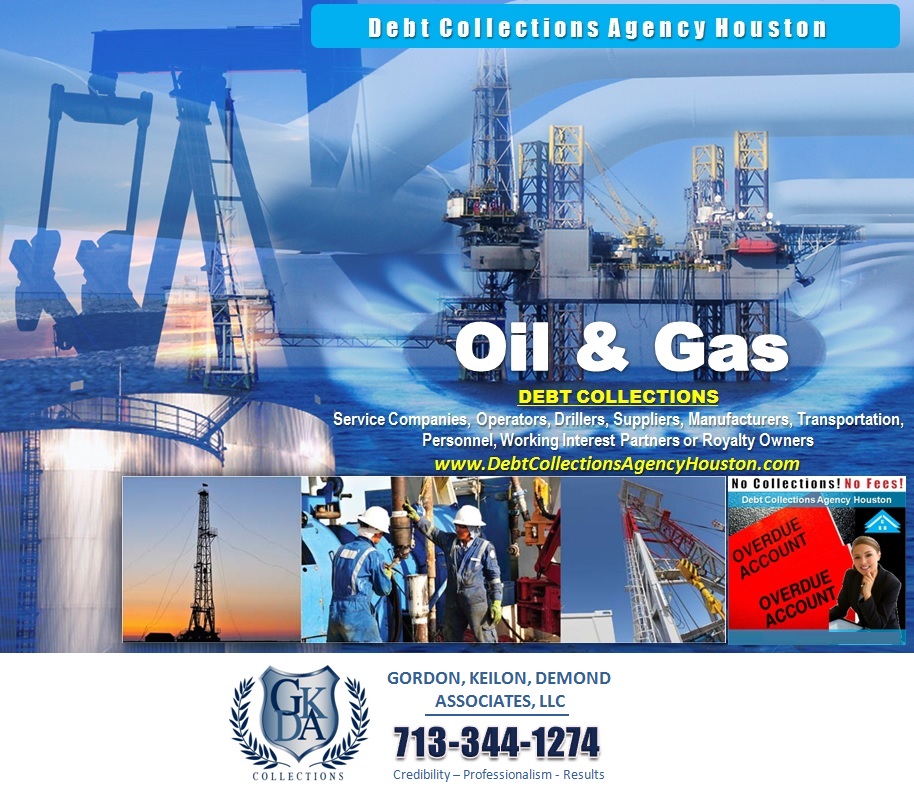 If you are in the following oil and gas industry sectors, we handle all aspects of oil & gas collections:
Oil & Gas Service Companies
Operators
Drillers
Suppliers
Manufacturers
Transportation
Personnel
Working Interest Partners
Royalty Owners 

---
Dallas – Houston – San Antonio – Midland – Tulsa – Oklahoma City – Lafayette – New Orleans