Houston Debt Collectors Success Rate 85% Debt Collections
Expert Commercial Debt Collection Years of Experience in Houston Debt Collection
Our debt collectors are professionally trained in commercial debt collections and we average 85% in our debt collection results.  We do not charge any fees until we have collected money for you.
Our debt collectors possess, we hire the best in Houston debt collectors with experience:
10 or more years of business collection experience
Excellent industry recognition
Commercial collection claim expertise
Trained abilities on taking custom approach for each and every claim
We are industry specialists when it comes to dealing with large claims while offering a nationwide service.  We have closed over $500 million in business collections worldwide.
Our company is a designated commercial collection firm, and this means we only collect business to business account receivables.  We do take action against individuals who owe a business debt.
Commercial debt collection entails a different approach than retail claims.  We have found that debt collectors who start their career as a retail debt collector end up having a struggle in working for a business debt collection company.  There is a totally different mindset when dealing with a large corporation or small business owner when compared to dealing with a single individual who isn't able to pay his debt.  Most of the collection agencies that deal with commercial and retail debt collections together typically have the employees moving back and forth between working for the different types of collection.
Each of our debt collectors uses a different approach for each claim.  First off, we review all documentation provided to us by our clients before we make any first call.  Trained commercial debt collectors need to always understand how business types work and the role of each contract (including purchase orders, sales orders, invoices, pricing discounts, return merchandise, shipping, and freight, sales tax laws, general contract terms and returns).
In addition, trained commercial debt collectors develop an overall understanding of how much the company owes and any information about the individual they are attempting to collect from.  The more information a debt collector obtains before attempting to collect the debt, the more chance for an overall success.  There are two main factors that are very important for success.  One is having a clear understanding of why the debtor has not paid and the other is learning about the debtor's personality to best determine how to make a negotiation.
There are many times when debtors do not reveal why their debt hasn't been paid.  It is a key component to try and get a debtor to talk and this is why we know how important it is to let the debtor explain their personal situation.  We take the time to learn about their business, get an insight on the personality of the contact person we will be talking to about the debt and getting any names of other people who are linked to the debt problem for any leverage we may need later.  We take the time to listen very carefully to the explanations and excuses while asking questions to try and figure out what is a smokescreen and what is real.  If a debtor is caught in a misleading story, this can end up being a powerful tool to use against them for collecting the debt.
When we find out the true reason of why the debt didn't get paid, we then create a strategy to get the money back.  We have a steady 85% success rate with business debt claims.  Our rate is this high because our collectors have exceptional training, experience, the ability to list and the know-how in making the collection happen.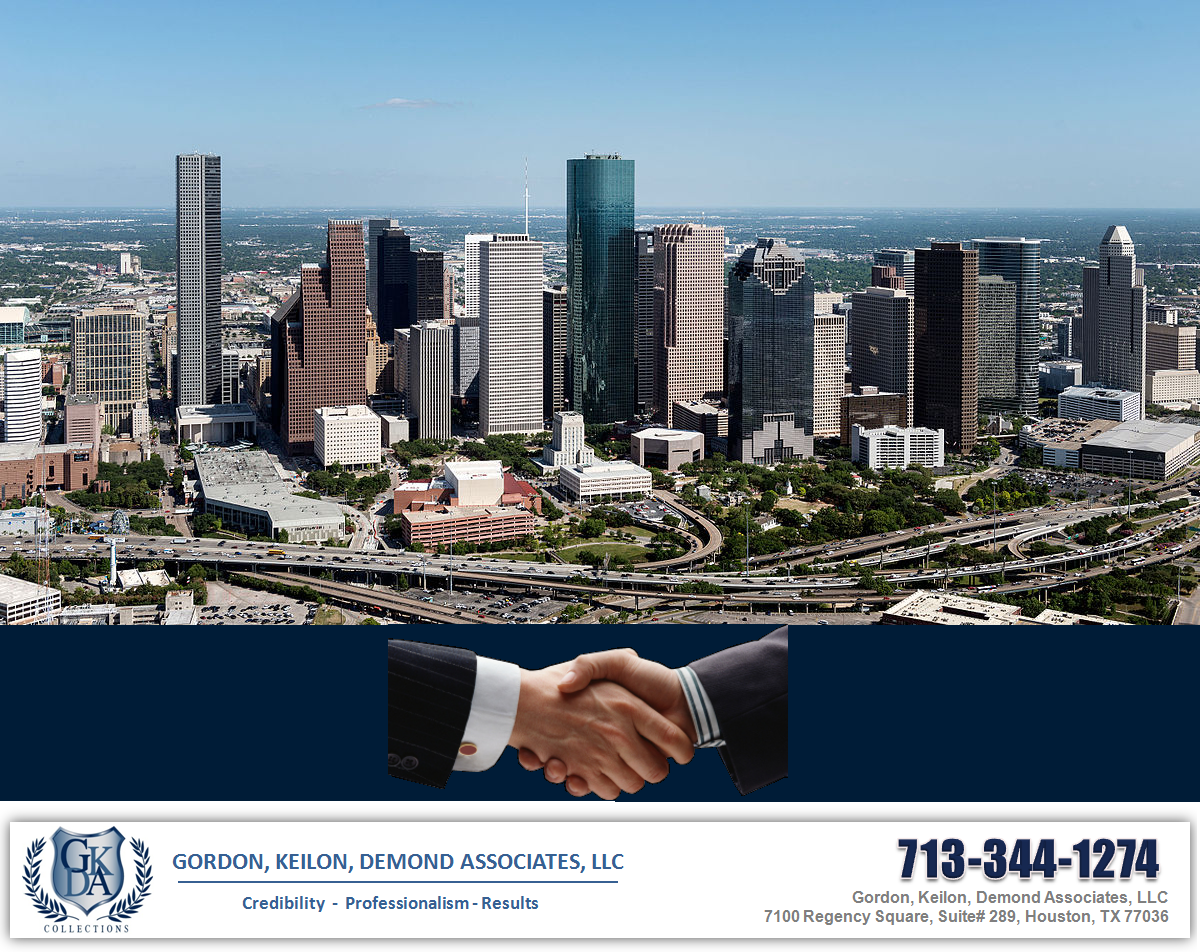 Debt Collections Agency Houston Debt Collection Houston Company . Collection Agency Houston B2B Commercial Collections Houston.