Commercial
Collection Houston 

Company Handles Large Claims
Large Business to Business Claims Are Our Specialty
While our collection agency does handle all claims above $2,000, our reputation is in large claims.  If you're owed $25,000 to $200,000, you realize this is not a typical collection matter.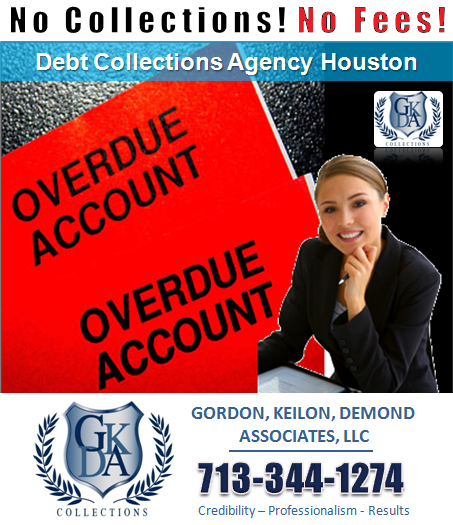 The principals of our agency have decades of debt agencies experience which gives us a much bigger advantage over other debt agencies.  Our principals are aware of what it's like to exist as a small business entrepreneur and owner.  We have dealt with dozens of start-ups and smaller companies as a buyer, founder, owner, director, senior adviser and/or executive management.  We have gained our knowledge through experiences that have allowed us to search, understand, identify and relate to a wide variety of issues the small business owner may face.  We can determine if the situation is viable and then we can develop a strategy to collect the debt.
Our principals have experience in working with multi-million dollar corporations.   We understand from the inside out of how the mindset of the executive works, the issues they are concerned with, how to get through to them and how to motivate them in the resolution of the current debt collection issue.  We are well aware of how to negotiate with them and we are aware of negotiation tactics as well as the real world issues that affect their overall ability to pay.  We have an understanding of the internal process and the many different types of people working at different levels.  By knowing all of this, we can navigate through the right channels and get the proper attention needed to get the debt issue resolved.
From our operating and business consulting experience, our principals have the inside know-how of the functions of different types of companies that do actually work.  We are able to spot comments which are misleading, build a relationship with the current debtor, ask insightful questions and help the debtor find a path to resolution.
Our principals utilize unique methods for negotiation, litigation skills, and deal-making.  We are well trained in reading contracts because we have made negotiations on these during our own consulting, management and debt collection process.  We are aware of how courts interpret contracts.  We also know the little details to look for that can impact validity and disputes.  We know how to style our language in our contracts to benefit our clients during the debt collection process.

All of our principals have graduate and college degrees from top universities in law, business and medical.  They have a sincere knowledge that is quite rare in the debt collection field.  Many of the large-sized claims we receive are not a simple collection matter.  Most of the claims require a greater skill in finding out if the real issue is a potentially viable solution, the personality type involved and the negotiating tactics to come to a solution.  Our principals are excellent debt collectors and our firm has proven this over the years.